Shopping is social. Style is social. In fact, for fashion and retail brands, success is social. Here's how to promote a fashion collection with online promotion and use your customers' social media habits to your advantage.

The relationship between fashion and social networks is getting closer. Why? Because that's where consumers are. Social media is the first port of call for many actions which used to be offline or via conventional advertising, such as:
Reviews – people share their opinions with social comments, YouTube videos, and on review-collection websites.
Recommendations – shoppers ask for, and share their top recommendations for clothing brands online.
Customer service – if someone needs help from customer service, they won't pick up the phone anymore – they'll leave a comment or message on your social profile.
Inspiration – consumers are looking for outfit ideas and inspiration. That search starts on social networks like Instagram and Pinterest.
Creativity – another side of inspiration: your customers love to post their outfits online and share their creativity with others. #OOTD #WhatIWore #StreetStyle
Community – social media is all about connections. Your followers want to feel close to your brand – and be rewarded for their loyalty with exclusive access and offers.
Shopping. Many platforms have now many it possible to shop directly from the social media network itself.
And if you can tap into just some of those ways that people express themselves online… your brand will be headed for success.
So without further ado, here are 6 interactive ideas to promote a fashion collection and get social media buzzing about your spring/summer looks.
Release your favorite piece with an Instagram Giveaway
If you want to get some instant attention for your latest capsule collection, then try a simple giveaway. It's a low commitment campaign – your followers just have to comment on one of your posts – but it will showcase your favorite items.
Take a look at this Instagram Giveaway from Oh So Her. To celebrate a new lifestyle collection, they gave away two pairs of monogrammed pajamas, which they expected to be a top-selling product. Everyone who commented on the post and tagged a friend had a chance to win.
The best part? Not everybody could win – but everybody saw the new product and was reminded to check out Oh So Her's new collection.
This kind of giveaway works especially well for collaborations or influencer partnerships. Take the example below. Instead of picking their own products, this brand asked influencer Roma Šakarnytė to choose her favorite piece from their new jewelry collection.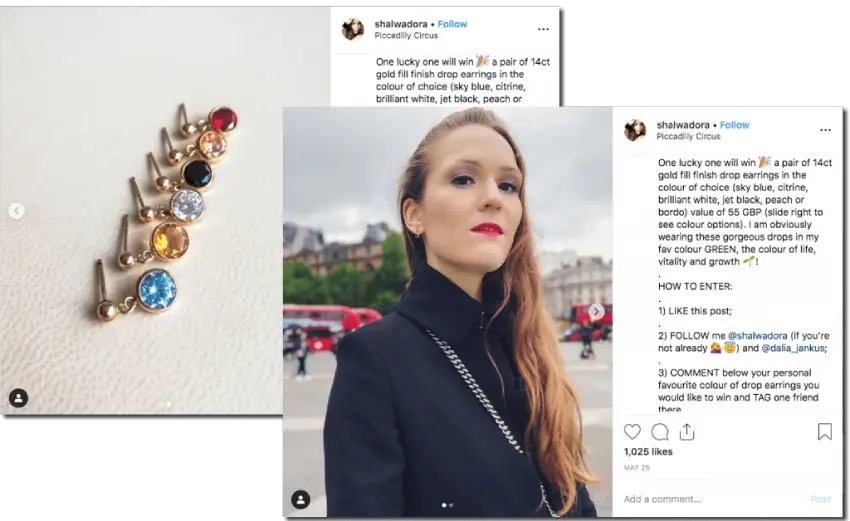 Then both, the influencer and the brand got to reap the benefits of the giveaway, with new followers and hundreds of comments.
Comment-based giveaways work great to advertise fashion collections on social media. Increased engagement helps the brand's positioning and therefore the promotion gets seen by a wider audience.
Need to save time? Use our ready-made fashion giveaway templates to promote your spring/summer fashion collection with a giveaway on Facebook or Instagram.
Share outfit ideas to present your new fashion collection and get feedback from your customers
One of the beauties of social media is that it's interactive. Instead of just blasting your customers with photos and news about your products, you actually have the opportunity to hear what they think.
So you can instantly find out what works, and what doesn't. You can even perform market research to find out what kind of outfits your customers like, the content they want to receive from you, and what they value about your products.
There are several different ways to do this.
First of all, you can ask people to comment on a post and state their preference. Now for the trick: when you run a giveaway, you can filter all those comments by keywords and hashtags. So, for example, you could give away Prize A to everyone who voted #optionA, and Prize B to everyone who voted #optionB.
Here's an example from ModCloth. They couldn't choose between 9 different sweater designs – so they asked their followers to decide.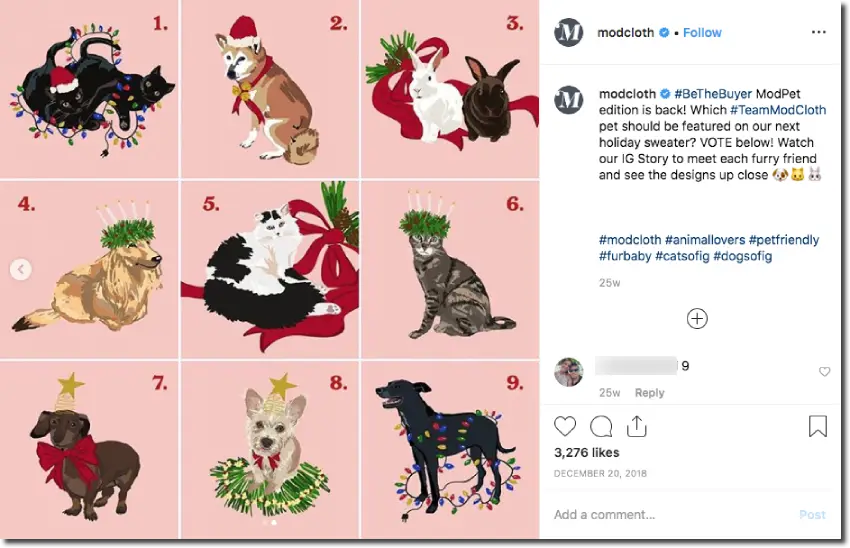 Another option to promote your fashion collection is to organize a pick your favorite contest. You can create a gallery full of outfits, and ask users to vote for their favorites. (They'll have to register their contact details to vote, so you can use the opportunity to add people to your mailing list, too!)
In this example, shoppers had a choice of 6 different outfits. Everyone who voted for their favorite outfit was entered in a prize draw for a $150 gift card.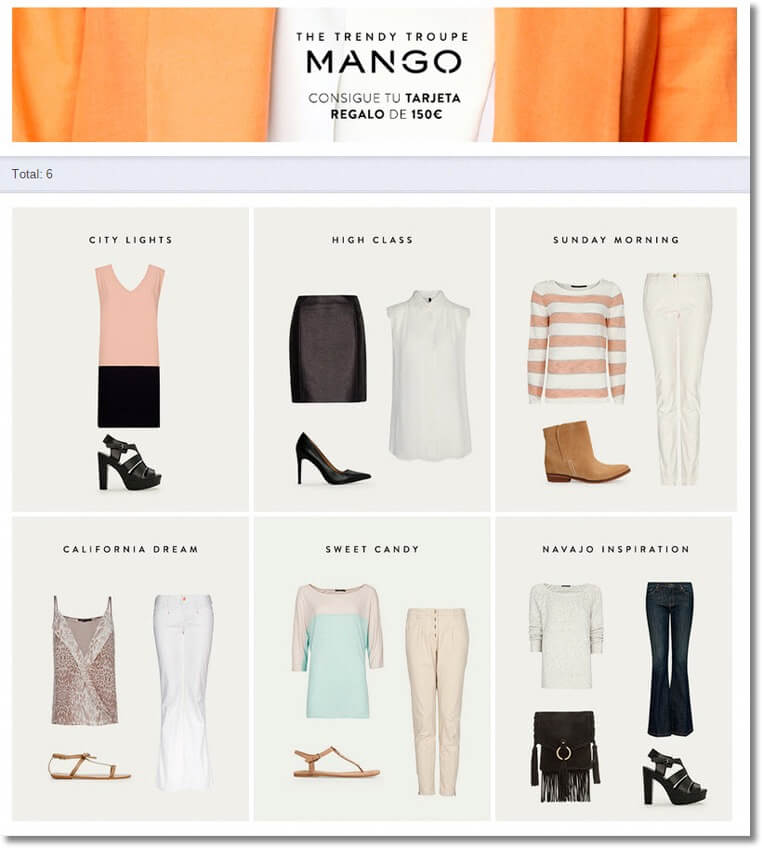 Remember, it's important to offer an incentive if you ask your followers to share personal information or fill out a form. For example, you could offer a small discount to everyone who voted, to encourage them to shop for the outfit they picked!
Create a virtual personal shopper to promote your new clothing line
Here's another big theme for fashion and retail marketing in 2021: personalization. Because social media gives individuals the power to connect with your brand, they expect to be treated as… individuals. That means personalized offers, fashion recommendations, and customer service.
One dynamic we love is the virtual personal shopper. Here's how it works: you create a multiple-choice Personality Quiz for your followers to take. Depending on their answers, they'll receive personalized recommendations for pieces from your new fashion collection.
Here's an example from a Spanish luxury brand. They asked shoppers questions like, What's your go-to office outfit? When people chose options like casual, formal, or elegant, they were shown different outfits to try on in-store.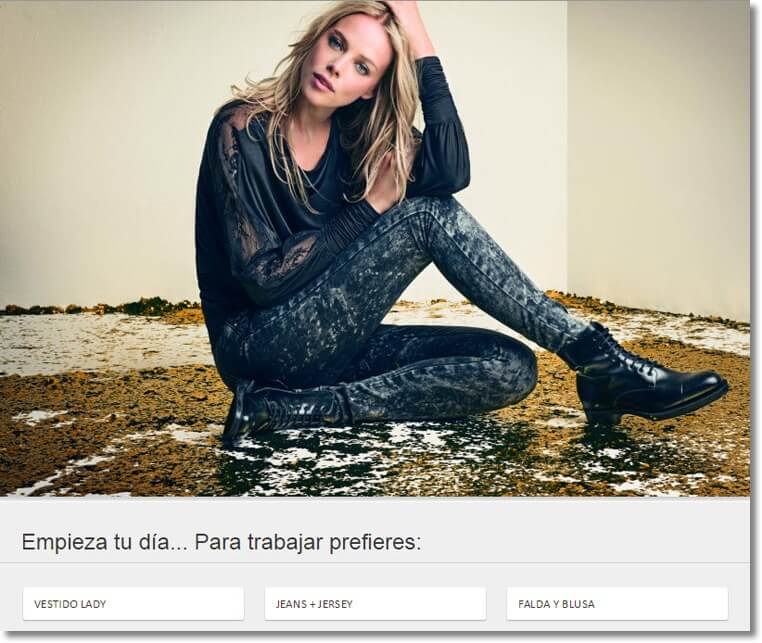 Collect photos from your most stylish followers
As we said before, people also use social media to share their style or find inspiration for new looks. But creating your own original, glamorous posts day after day is a lot of work!
That's where user-generated content comes in. Your followers are already sharing photos and posts with your fashion collection – so why not repurpose that content for your own Instagram feed or ad campaigns that aim to promote that fashion collection online?
Once again, you have several options to make this happen.
First off, you could run a Mention + Hashtag Contest. Encourage people to post with your @InstagramUsername and #brandhashtag. Then the app does the rest – you'll collect all those photos into a single gallery, ready to view, vote, and share.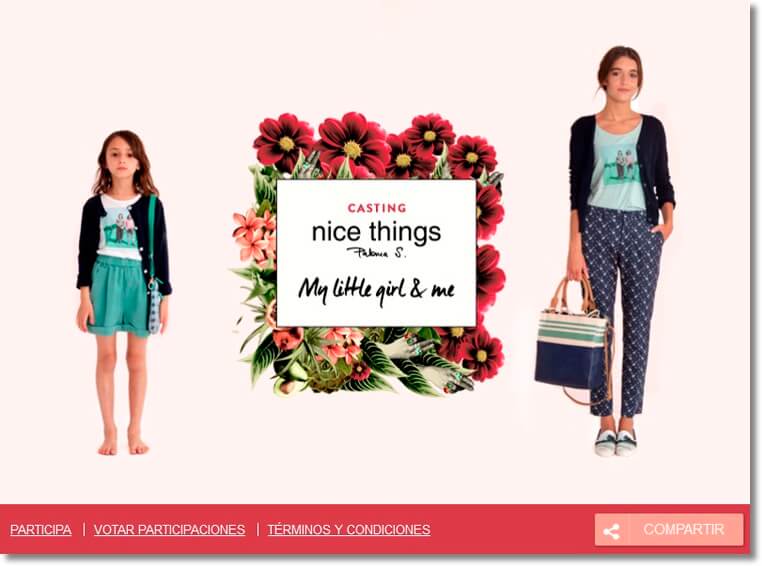 Some brands even use these contests to find new influencers and ambassadors, like the example of a casting contest above.
Alternatively, you can use an Instagram Photo Contest app. This works pretty much like a Mention + Hashtag Contest. The only difference is that once users have posted their photos, they connect to the photo contest app to confirm which images you can use.
So what's the benefit? Well, unlike a Mention + Hashtag Contest, you also get:
full image rights over the photos in the contest
users' contact details, including email address
access to photos from private profiles

Offer an early-bird discount to generate buzz around your new collection
We've covered almost all of the points that we mentioned at the start of this article. You know how to collect reviews, recommendations, and feedback with social media giveaways. You've got ideas to share inspiration and witness your followers' creativity with user-generated content.
All of those actions help to build a faithful community online. But there's one more thing you can try: rewarding your followers for interacting with you.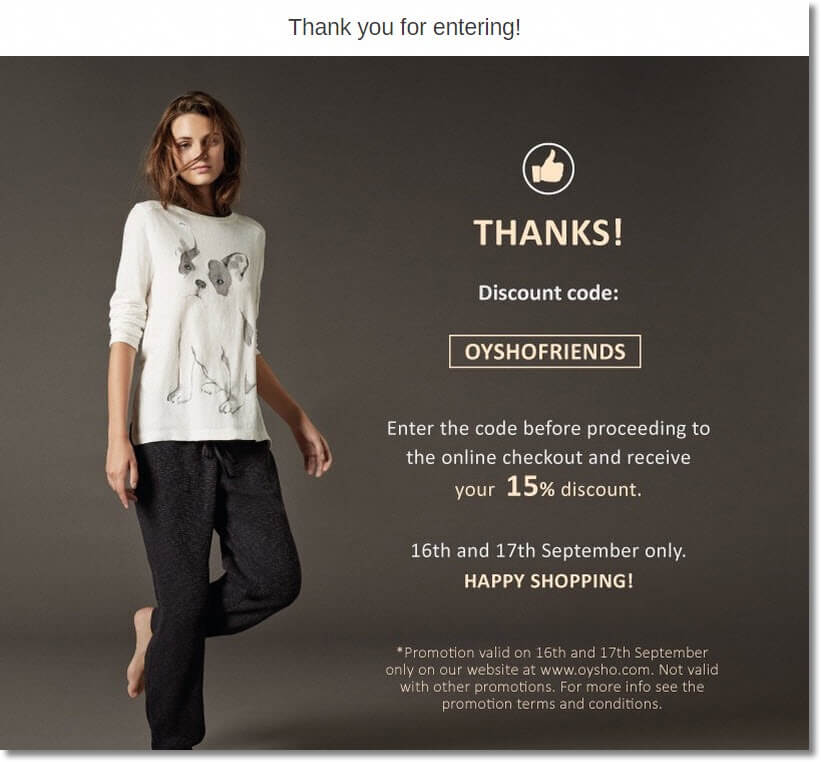 If people are interacting with you on social media, then it means they already identify with your brand. And they want to feel like that relationship is reciprocated. So if you want to retain those loyal customers, then you'll need to offer them some kind of reward in return.
Here are just a few ideas to keep your followers and subscribers happy:
Exclusive early access to new fashion collections
Exclusive access to online-only collections
Unique discount codes for each social network (so you can see which networks are most effective at converting sales)
It's easier than you think to create and share promotional codes, too. Offering discounts might seem like a risk – but if you target your campaign correctly, it will soon pay off with increased sales volume and happy customers.
Gamify your marketing campaign
Gamification is the newest trend in digital marketing. Online users spend hours on their mobile devices every day, and a big amount of that time is spent on engaging with interactive apps and games. So why don't you give them an opportunity to interact with your branded content that's promoting your new clothes?
Branded mini-games are great to showcase your new fashion products. Your audience doesn't mind being exposed to your logo or branding colors, as they are entertained and engaged with fun content! Here's an example of a branded Memory game that you can create in just a few minutes.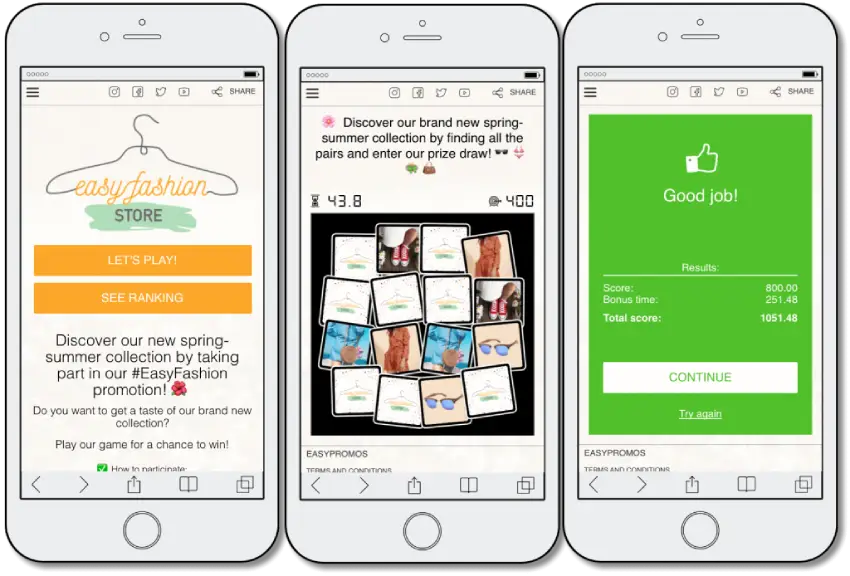 Present pictures of your new fashion collection and invite your followers to find matching pairs as quickly as possible. To create even more rivalry and excitement raffle one of the new products between the fastest participants! This will leave the audience positively surprised, and they might visit your social media profiles and website in search of future contests!
Interactive campaigns work great when advertising fashion products online as apart from seeing the product the user also interacts with it. This reinforces brand and product recall.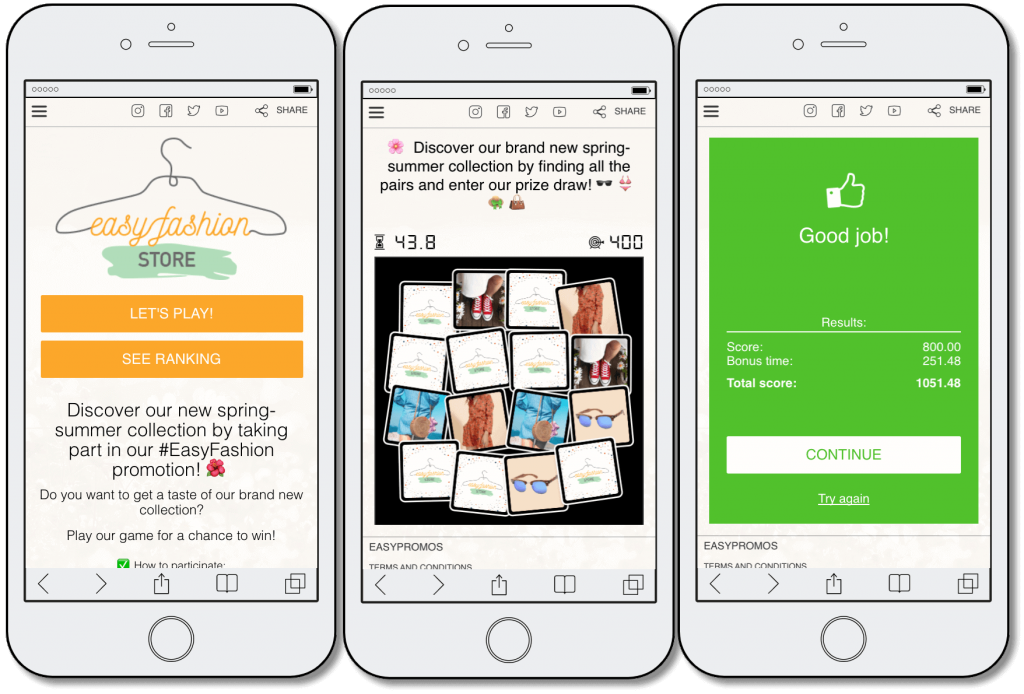 If you'd like to try a fashion-themed Memory game, go ahead and test our DEMO. And then you can create your own promotion using our ready-made template.